COVID escape from the Island of Gods
Ever been to the same international airport twice in two days without knowing where you'll land next day? How would you like adding last minute border closures and a pinch of virus that is turning the world into a pandemic?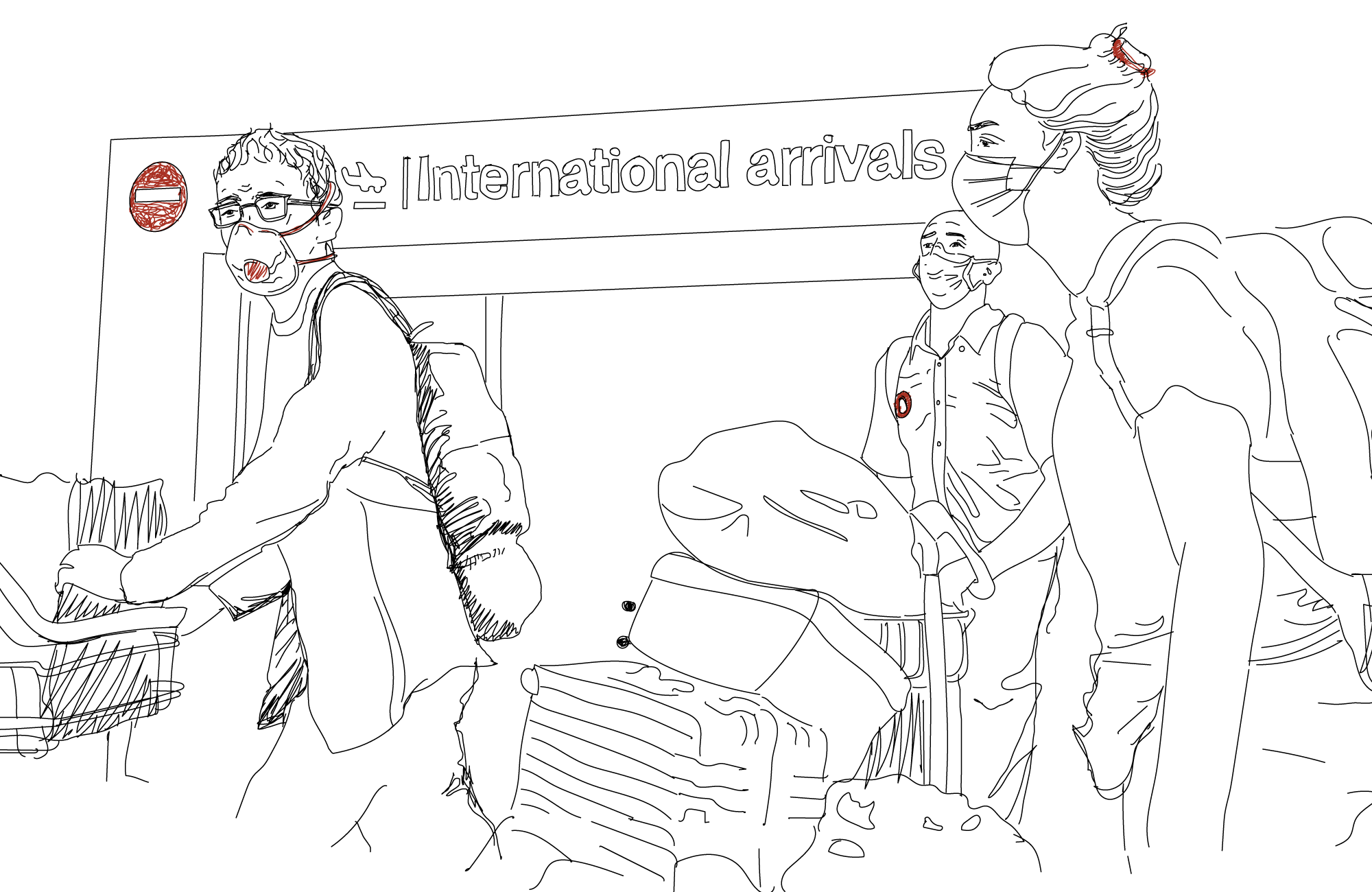 Looking back at 2020, most people will likely have a detailed memory of how the pandemic has started. The first cancelled flight, the first lock-down, and the long weeks with no human contact. All these have left a non-erasable print in my brain.
Denial
The March weekend before the evacuation was an eventful one: long brunches with close friends, scooter road trip, surfing, and searches for housing to live the Canggu lifestyle till at least June. There were a couple of loose discussions about how things were slowly becoming alarming elsewhere in the world. Everyone felt safe in Bali and general consensus was reached to stay put and enjoy the virus-free life.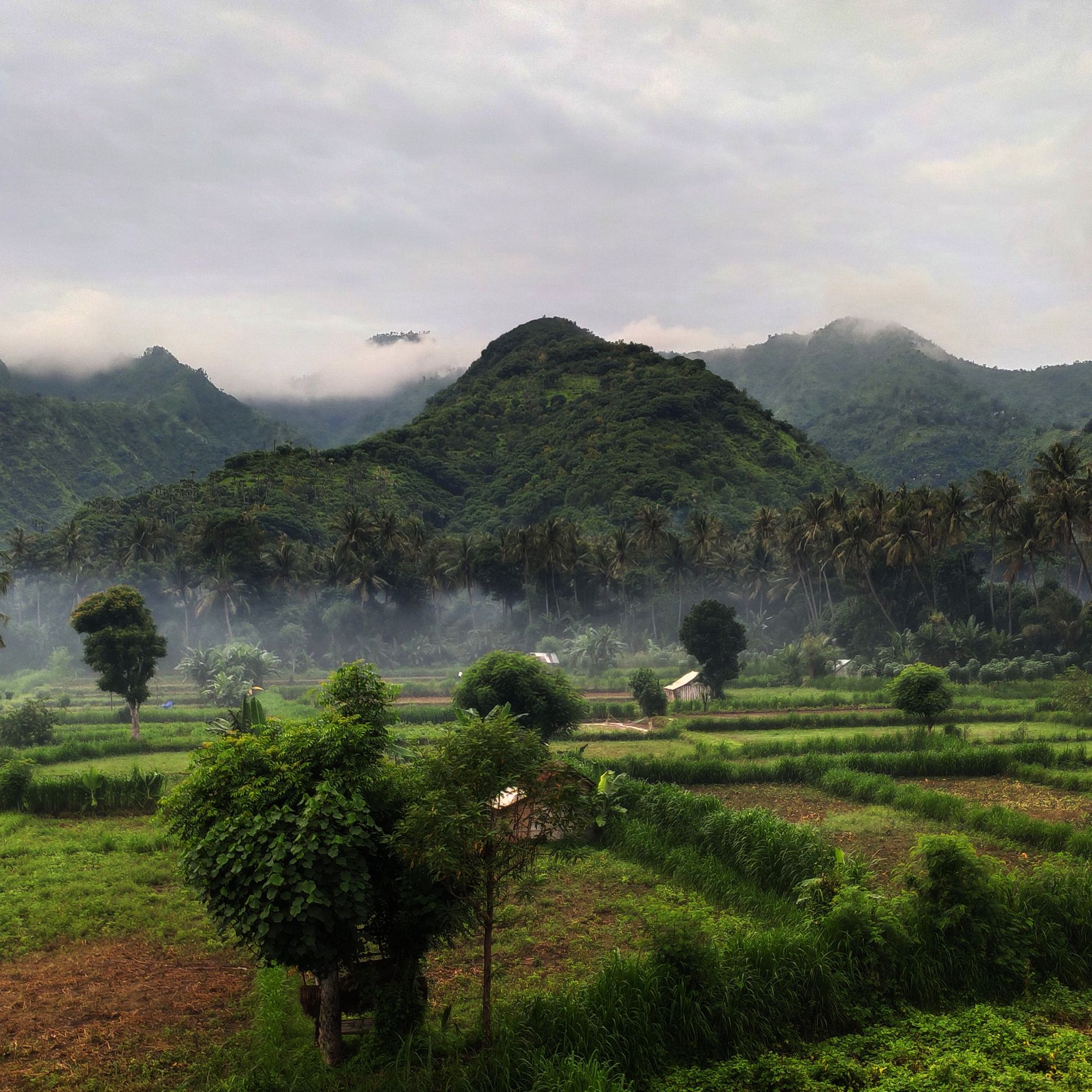 Monday morning coffee
The week started in a typical way. I came to the co-working space and ordered a coffee and breakfast. My friends Aileen and Grahame arrived. As Aileen was making sure the right roast was being prepared, myself and Grahame sat in a bungalow outside. We both had a strange new feeling that creeped onto our faces - it was anxiety. Without a preface, Grahame shot a straight sentence: "We don't feel safe here anymore. We should leave the island ASAP". I did not need an explanation. Having been thinking about the same all night,I spent the morning in bed researching safe destinations and flights. "Was thinking Taiwan this week?", Grahame: "Yes, exactly my thoughts. Let's book flights after we have food."
There was no work that day. We shot a note to our colleagues to let them know we were going offline in an attempt to evacuate out of the Island of Gods asap. We divided responsibilities between three of us and quickly researched the essentials of changing countries: visas, quarantine requirements (these were new obstacles to account for back then), flights, and accommodation. By the end of the day we were all set to fly out to Taiwan on Wednesday.

Destination Taipei
Tuesday flew by with anticipation of changing countries. To keep somewhat productive I scouted for scarce essentials: face masks, hand sanitizers, and paracetamol. In between shop runs there was constant monitoring of Taiwanese government's actions and regulation changes. New rules were popping up like mushrooms after rain.
Everyone woke up early on Wednesday. Even though the flight was scheduled to be late in the day, the tension was running high. Unexpectedly, news broke closer to noon about a conference held by Taiwanese PM. Tuned in. They announced the unimaginable - locking the country borders!
FUK.
Quick discussion. Ordered pick up in 10 minutes. Bags in front of the villa gate. The border closure was happening at midnight. We still had time to get there. The last flight from China Airlines was departing in a few hours. Fingers crossed, let's go!
The airport was a sweaty mess, with a few worried people wearing masks. While going up the stairs to find the China Airlines booth I bumped into one of my good friends. Andy: "Oh hey! Didn't expect to see you here. What's up?", I explained the situation. He wished us luck. My friend was on his way to New Zealand. We were departing into opposite sides of the world and would probably not see each other for a long time. We did a newly invented salutation - a foot bump - and parted to different destinations.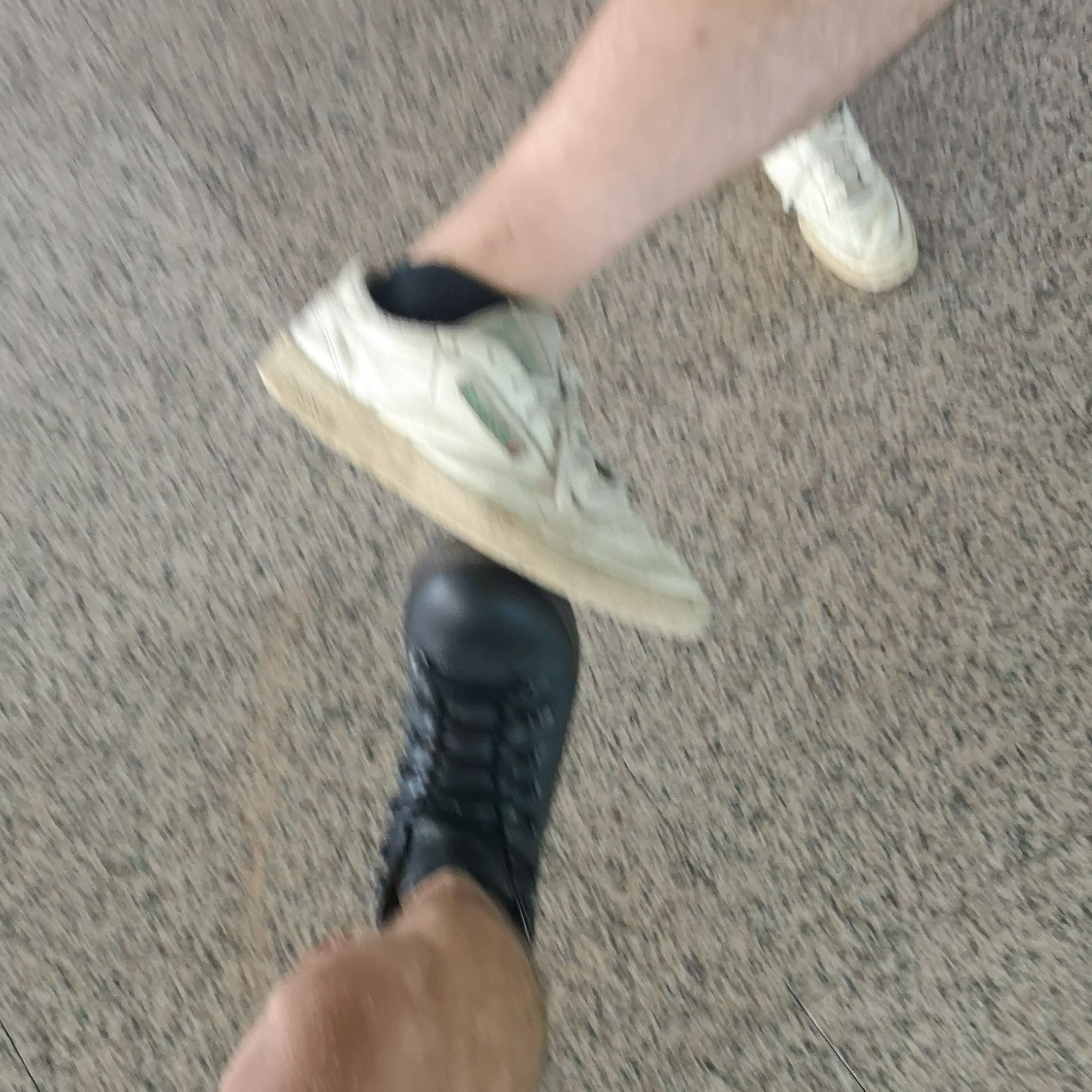 I was tasked to cancel the flight we had booked originally while Aileen and Grahame sorted the last departing flight before the border closure. One stressful hour later we had more bad news on our hands: no refund from the Jetstar and we have been possibly blacklisted by China Airlines. Taiwan became an unreachable dream. The safe alternatives were scarce. The flight to Auckland was departing in an hour. We rushed booking tickets. Another piece of bad news as we found out the ticket sales closed 15 minutes earlier. The rest of destinations looked iffy.
Fuck.
We decided to go back home, finish the whiskey, and figure out a new plan.
Destination Aotearoa
The decision to head over to New Zealand was made during the taxi ride home. Now we had to figure out how to approach it.
The visa application took about 10 minutes to fill out and another 10 minutes to get approved - it is happening! As the Talisker bottle emptied out, the action plan was getting clearer. Next on the list was getting the flights sorted. Because of the Taiwanese experience earlier that day, we went for the first available flight. There were only 3 seats left... in business class.
YOLO!
Now we had the luxury of taking all of the sports gear with us! We found a house close to Auckland Airport with the title "Suitable for Self Isolation" and booked it straight away. The day was exhausting. Having a plan brought hope and relief. Went to sleep tired but happy.
Déjà vu
Woke up early even though the flight was in the afternoon. Decided to head to the airport and enjoy the business class lounge. Ordered to pick up in 10 minutes. Bags in front of the villa gate... Driving to the airport was more stressful this time, the news was getting worse by the hour from all over the world. COVID cases were popping up everywhere, people started getting panicky. The airport was filled with more people and a significant amount of them were wearing face masks. There were long queues to airline booths with passengers trying to re-book cancelled flights. The environment intensified the anxiety of the Taiwanese fiasco.
We headed directly to the flight check-in. I finished the process first and started looking through the news. BREAKING: Jacinda Ardern announces New Zealand border closure to non-residents.
FUUUUCK!
The luggage processing for Grahame and Aileen was still going. I showed them the phone screen. We silently walked away to the business lounge with boarding passes on our hands. All of us knew what was about to happen. Our phones lit up. The search for still open and relatively safe countries began. Again.
10 minutes passed and we got called up by an Emirates staff member. They asked to take a seat in an uncomfortable waiting lounge. A man in a tan suit with hands full of golden rings walked towards us. He held two phones in his hands and talked hard-accented English into one of them. The man introduced himself as the General Manager of the Emirates of Denpasar Airport, and told us that New Zealand Immigration is on the line wanting to talk to us.
What followed was the most emotionally packed half an hour I had ever experienced.
As the only native English speaker among us, Grahame took the phone. Myself and Aileen listened carefully, trying to guess the context of the conversation, and pulling out supporting documents for reference: booking for a quarantine-ready house, bank account balances, travel destinations we "planned" going to (surfing Raglan, kiting Christchurch, and hiking Southern Alps - all places we knew almost nothing about), and loads of other details which my brain has blanked out. Conversation ended. Grahame passed the phone back. The man in the tan suit double checked our phone screens showing bank account balances. For about a minute, which felt like an hour, he was listening to the instructions from the phone with an unreadable face expression. Airline Manager: "Welcome aboard". Euphoria and relief.
FUCK YEAH!
Flight to safety
We moved back to the business lounge. Had a few drinks. Knowing there won't be any in New Zealand, I ate all of the snake fruit I could find in the buffet. After they announced the departure gates opening we strolled to the priority boarding lane.
The stewardess greeted us with champagne right after we settled in our seats. She presented three course meal options along with wine pairings. We felt ecstatic and celebrated with all the alcohol we could handle. The rest of the trip felt like a reward for all the stress we've gone through the last couple days. Horizontal sleeping with a comfortable pillow and proper whiskey ruined flying coach for the rest of my life.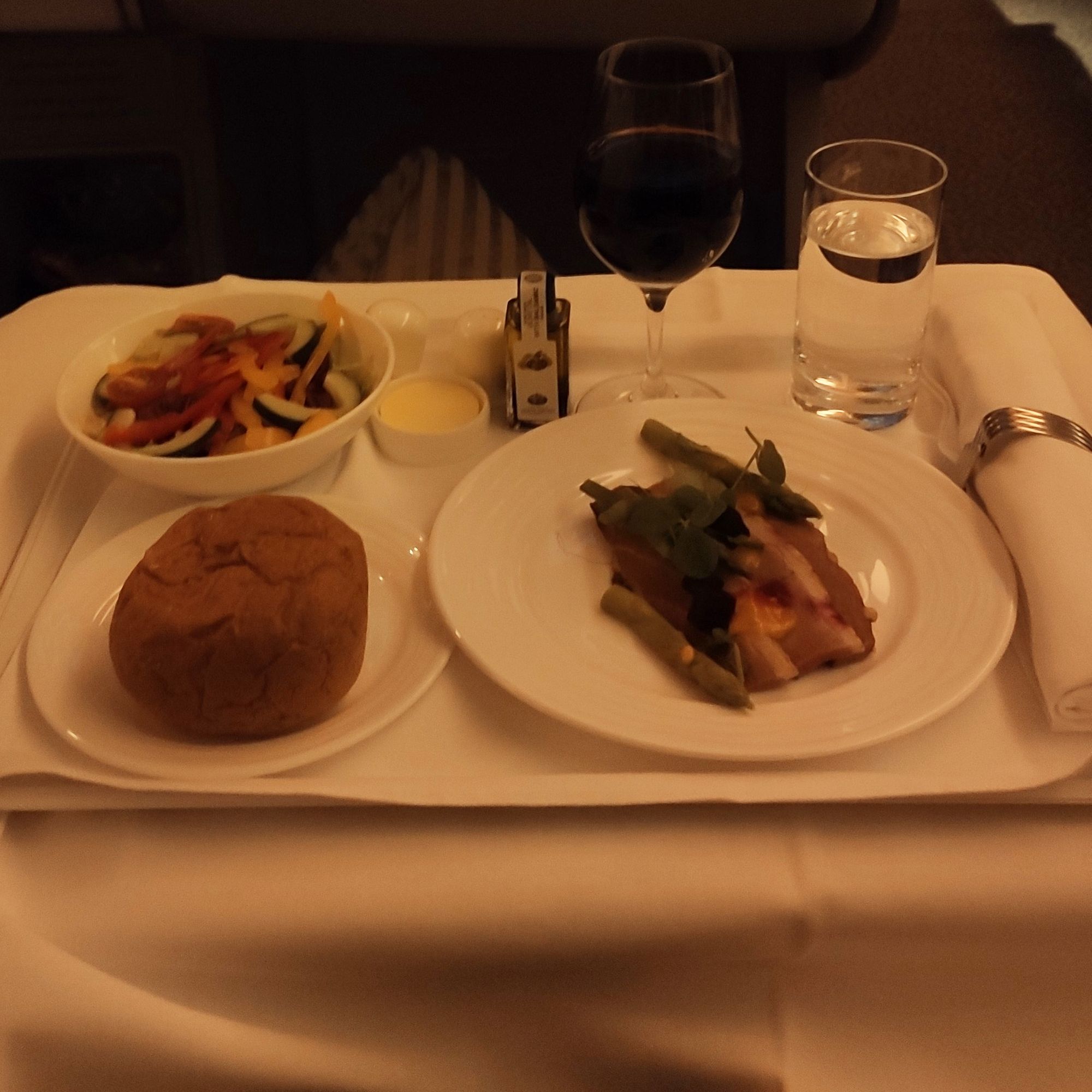 Save heaven
We landed five hours after the border officially closed at midnight, which probably made us the last non-kiwis who entered the country. The immigration took longer than usual because of all the physical distancing which was just introduced with special temperature checks and other precautions. It still felt surreal to be on the ground and "safe". After getting a visa stamp we did the routine sim card purchase, cash withdrawal and basic airport grocery shopping. Local news filmed our entry at the arrivals gate to capture the first flight landing after the border closure. Over the next weeks we became minor celebrities, with the picture of our dramatic entry used as the cover for "all stories COVID and Travel".
We jumped in a taxi, explored our ridiculously large and creepy 10 bedroom self-isolation house, and began a year long adventure through New Zealand.
SWEET AS!
One year on
This new home wasn't particularly planned or ever high on my destinations list. Nevertheless, coming to the beautiful land of Kiwis was one of the best decisions in my life. Looking back at it, I could not have made a better choice!
Tell me about your start of the pandemic on Twitter:
---
P.S. Forever grateful to Aileen and Grahame for being the best travel companions and a dream bubble! <3