Eat. Surf. Hike.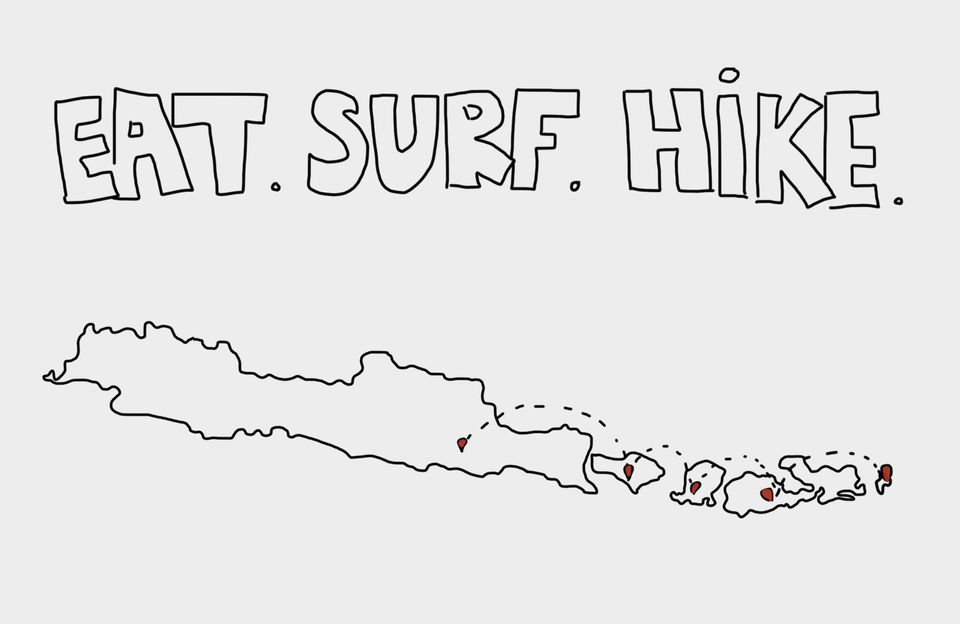 The rest of June is officially adventure time! All the colleagues at work are getting a full month off to do whatever the heck we want. I'm extremely excited! Yew!
Unlike with a recent two-month sabbatical, there was no planning for the June adventure up until this moment. Nothing at all. No detailed itinerary, not a single night booked. Nada.
I've been working on my over-planning trait for some time now. Massive ✅ for a person who used to do rigorous multi-year life planning. Also, not planning much was one of the bigger lessons learned during the December-January Thai adventure - a lack of schedule could do really good and mix fun randomness into the experience.
Don't get me wrong. I am not gonna make up everything as I go. There is a strong preference around where and what I want to do. The how I get to experience all of them is yet to be figured out.
Where
I'm in Indonesia right now. It's a massive country to feed the needs of adventure junkies like myself. After escaping the Island of Gods at the beginning of the pandemic, there were many dreams abandoned here. I'm back and it's about time to fulfill a good chunk of them.
Let's get to the what part already!
Surfing
I love the rhythm of the swell. I love being one with the wave, even if for a dozen seconds. I love the epic views from the water.

Surfing is my favorite meditation.
The truth is - my technique sucks big time. I mean... look at this kook!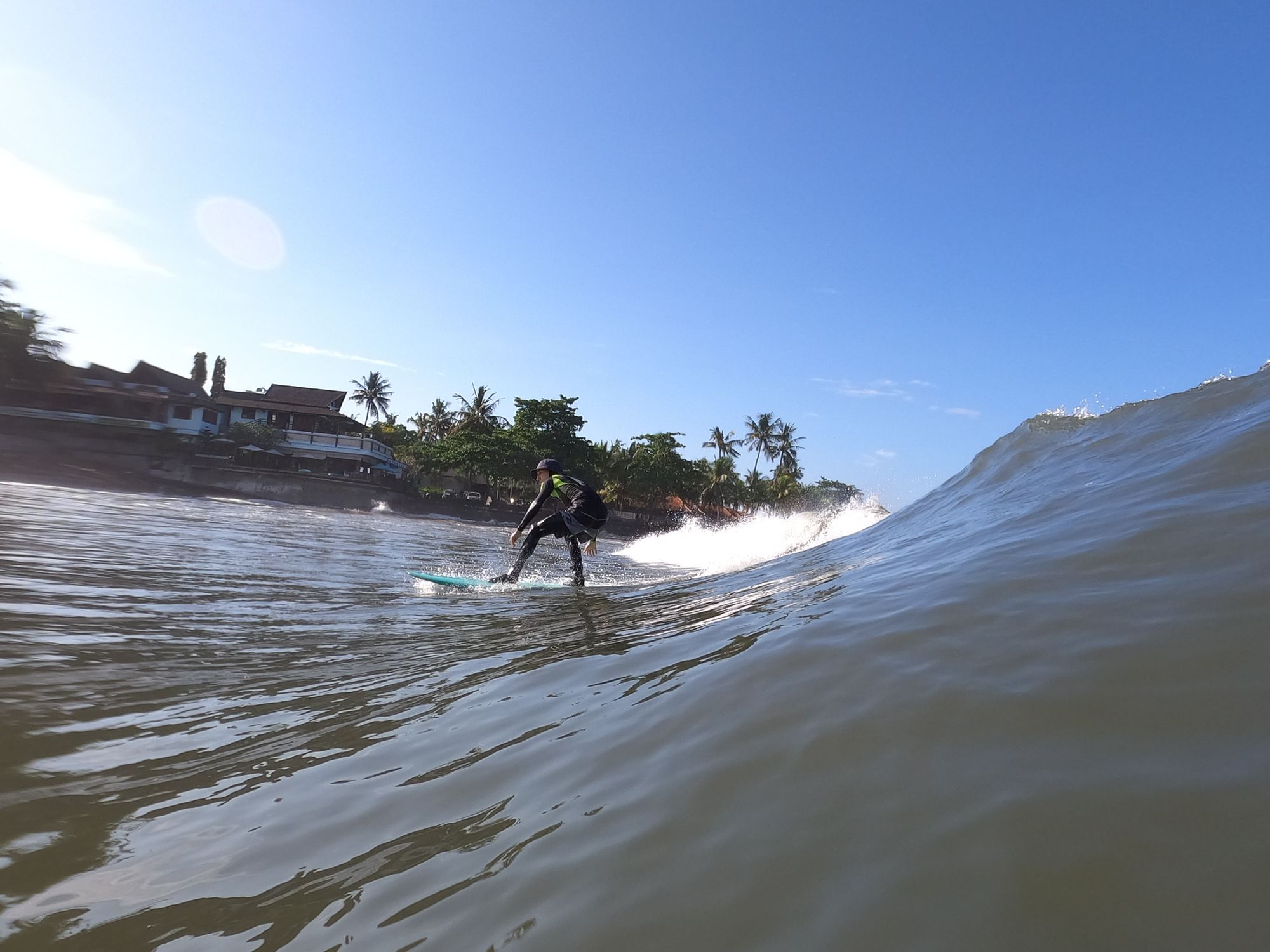 Aims:
Practice at least 14 sessions in the next 4 weeks.
Get comfortable doing the drop from a shoulder to overhead waves.
Get to 90% success rate when choosing the waves to surf.
Try a single fin. Have been stuck with a tri-fin 7'6" way too long.
Hiking
Hikes have been my greatest source of friend material. This is where I met or got to know most of my adventure buddies.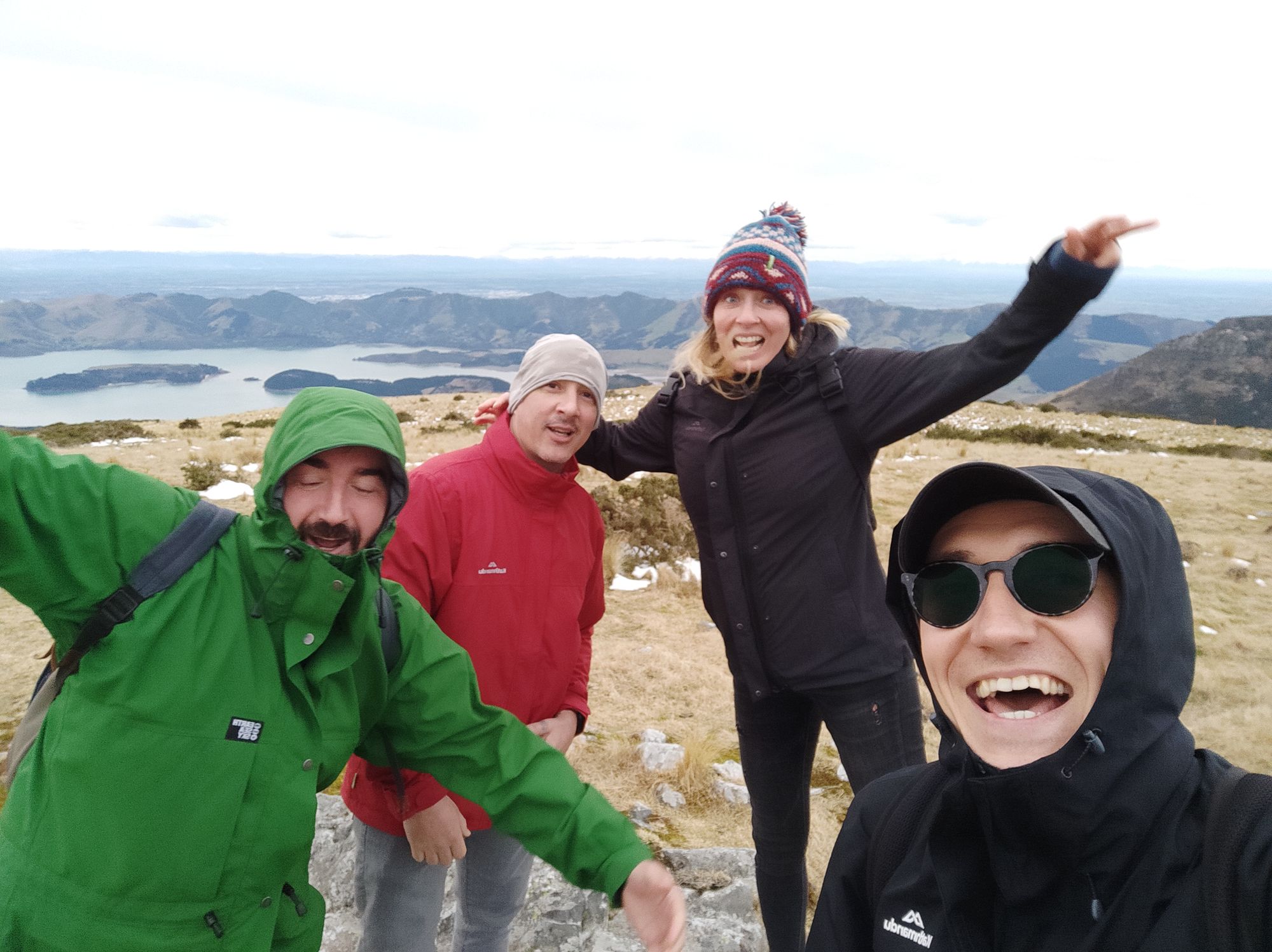 Aims:
Get on top of at least one volcano.
Get into the jungle. Proper jungle.
Diving(?)
Wait it was not in the title. And why the big question mark here?
I'm really hoping to get certified for open water scuba this time. The doctor discharged me with a "recovered and take it easy" comment last week. Gonna take the first dives slowly. The last thing I wish is fucking myself up again and be banned from the water for the next half a year. If I get comfortable and a am little lucky, will go full in with the certification.
The first dive will most likely happen at one of the Gili islands. If that goes well, hoping to explore the underwater kingdom of Comodo islands next.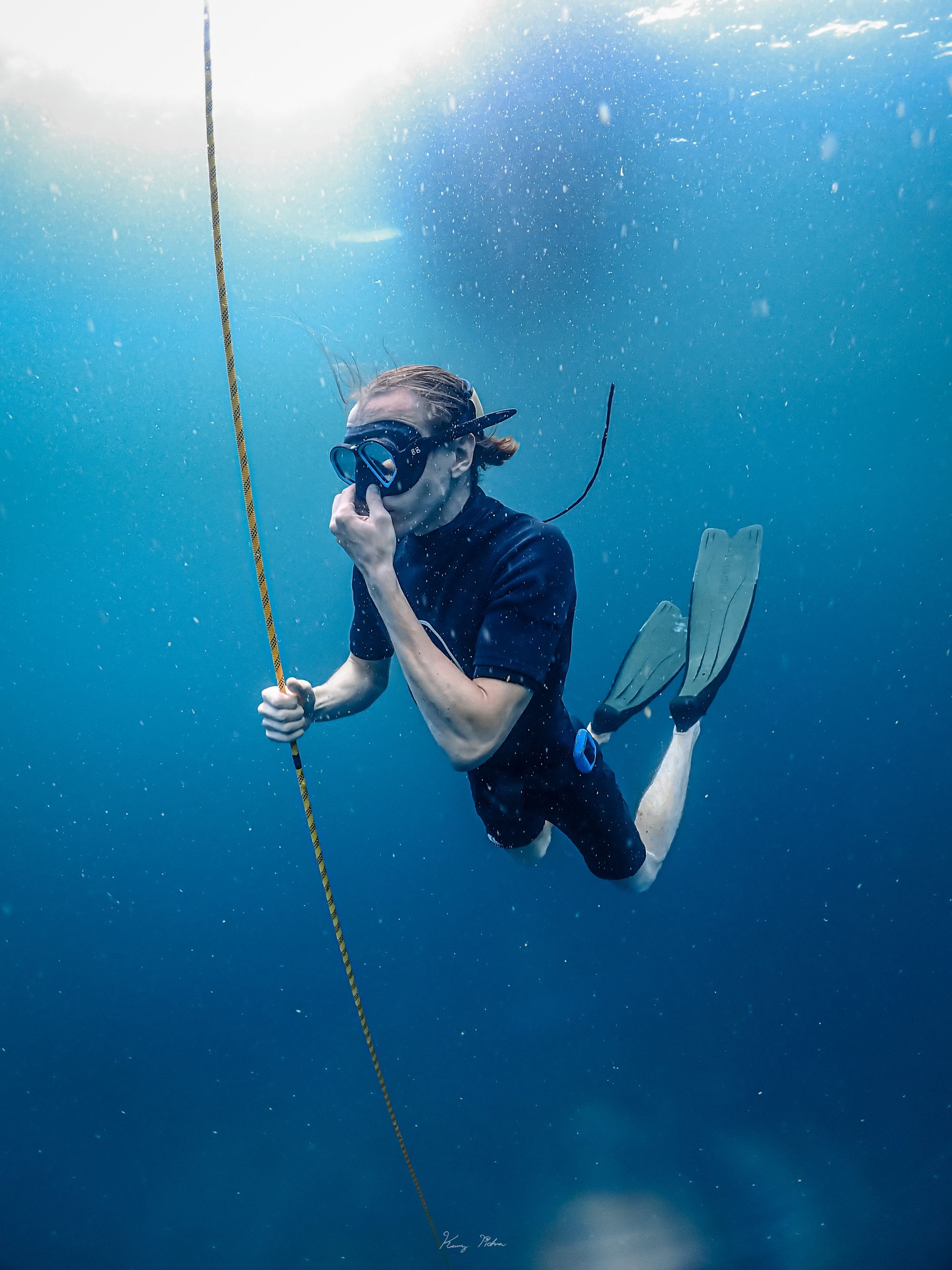 If you are not afraid to get hooked on freediving check this out. I warned you!
Aims:
Do at least one dive. Have the guts to bail if the ears don't feel right!
Go for an open water scuba certification if the body is ready.
Dive with a manta-ray OR a turtle OR a shark - gotta be memorable!
Side-projects
There are a few digital life projects I started during the winter break. I'd like to clean them up after using them in rage past four months.
For example, my nexcloud+photoprism setup needs a few improvements to nicely sort newly synced photos and videos. Oh... the videos! Now that I've started shooting vlogs regularly, got to experience how absurdly storage-intensive video production is. Yet to find a smooth flow to manage each video from the upload phase for the editor to take over to the review/polishing/publishing phase.
Another side project I'll give my attention to will be the automation of the housing units admin work automation. I've been looking for the right tooling and didn't find a light and suitable solution for my needs. Pretty keen to automate some of the recurring tasks like rental agreement renewal notifications, scheduling maintenance, and lots of other boring stuff homeowners/landlords/real-estate managers deal with. Will gladly kill all of these time-sucking, boring tasks.
K. Time to wrap up. It's getting late here and I feel a severe lack of sleep. Probably will start or already am mumbling incoherently.
It's exciting to have this much time off to follow your dreams. Equally exciting is experiencing the dreams of my colleagues vicariously. It's a massive 30+ person dream fulfillment party!
Hope you like my upcoming Indonesia-flavored adventure stories. It's going to be a mix of salty water and volcanic dirt.
Oh and don't forget to like, subscribe, or shoot an email my way. Whatever! Let's connect. There are no comments here. The closest to commenting is replying on Twitter I guess:
---
P.S. You've probably noticed there was not much about the "Eat" part. Well... Being in Bali I could not resist to use the The Julia Roberts movie reference! These "triplet" titles are super-catchy, eh!?
Seriously though. I will eat all the sambal I can find. All of it. Indonesia has yet to tear my eyes and cause an hour-long hiccup madness. Hat off to Thailand for great memories!